Sensex ends below 35,000; metal, pharma stocks drag
Benchmark indices dropped on Friday tracking global markets, while metal and pharma stocks pulled down the indices ahead of elections in the key state of Karnataka.
The S&P BSE Sensex ended at 34,915, down 188 points while the broader Nifty50 index settled at 10,618, down 61 points.
Among sectoral indices, the Nifty Metal index was trading over 1% lower led by a fall in shares of Hindustan Zinc and Hindalco. The Nifty IT index, too, was down led by a fall in shares of Mindtree and Wipro. Among the FMCG counters, ITC, Emami, GSK Consumer slipped over 2% on the NSE.
Pharma stocks pushed both indices lower, with the Nifty Pharma index falling over 1.5%.
Bajaj Auto, Mahindra & Mahindra (M&M), ITC, Reliance Industries (RIL), Mahindra & Mahindra Financial Services (MMFS) and JSW Steel are the six stocks that Morgan Stanley is betting on in India to play its 'growth at reasonable price' (GARP) investment strategy.
An Indian jeweller that saw its market worth reach $3.6 billion at the start of the year is now floundering at about a quarter of that value after one of its founders gifted some shares to family members, raising concern about the company's governance. PC Jeweller Ltd. slumped by about half after the company said last week that one of its founders P.C. Gupta made the gifts through off-market transactions. The stock has plunged 75 per cent from a record on January 19, taking its market capitalization to Rs 58.3 billion ($873 million). It climbed 21 per cent to Rs 146.85 as of 12.31 p.m. in Mumbai on Friday.
Realty firm Godrej Properties on Friday reported over two-fold jump in its consolidated net profit at Rs 1.41 billion for the January-March quarter of last financial year on higher sales. Its net profit stood at Rs 625.9 million in the year-ago period, the company said in a filing to the BSE.
Adani Ports and Special Economic Zone was trading 3% higher at Rs 408 on the BSE, after the company reported mixed set of numbers with consolidated revenue from operations up 43% year on year (YoY) at Rs 31.83 billion during March quarter (Q4FY18), on back of higher cargo volumes. The consolidated net profit declined 20% YoY at Rs 9.29 billion in Q4FY18, due to weak product mix and higher tax outgo. Consolidated cargo for Q4FY18 increased by 6% to 45.44 MMT as against 42.67 MMT in Q4FY17.
Housing and Urban Development Corporation (HUDCO) hit its lowest level since listing at Rs 63.45, down 1% on the BSE. The stock of state-owned housing finance company was quoting lower for the ninth straight trading days, falling 7% during the period. It is trading close to its issue price of Rs 60 per share. Since listing on May 19, 2017, HUDCO underperformed the market by falling 12% as compared to 15% rise in the S&P BSE Sensex.
Castrol India dipped 7% to Rs 181 on the BSE in early morning trade after the company reported single digit 2% year-on-year growth in net profit at Rs 1.82 billion in March quarter (Q4FY18), due to a sharp rise in input costs. It had a profit of Rs 1.79 billion in the same quarter year ago. On a comparable basis without the change in indirect tax treatment, net sales in the quarter under review increased by 5% over the same period last year at Rs 92.7 billion driven by volume growth across categories.
Hexaware Technologies has dipped 10% to Rs 408 on the BSE in early morning trade despite strong March quarter results. The numbers came in as a surprise for analysts as the company did not raise its revenue guidance, which put a question on whether the growth momentum seen till now will continue going ahead.
Bombay Stock Exchange (BSE) has reported a 14.6 percent degrowth in March quarter profit at Rs 62.1 crore YoY but revenue grew by 19 percent to Rs 136.6 crore.
Ambuja Cements has reported standalone profit at Rs 271.8 crore for the quarter ended March 2018, a growth of 10.3 percent over Rs 246.5 crore reported a year-ago. Revenue from operations during the quarter grew by 11.9 percent to Rs 2,862.6 crore compared to Rs 2,559.3 crore in same period last fiscal.
Carborundum Universal share price gained 3 percent after the March quarter net profit surged 48.3 percent year-on-year to Rs 65.8 crore from Rs 44.4 crore. Revenue from operations during the quarter grew by 16 percent to Rs 649.5 crore while operating profit (EBITDA or earnings before interest, tax, depreciation and amortisation) jumped 25.5 percent to Rs 115.8 crore with margin expansion of 130 basis points at 17.8 percent YoY.
NIIT Technologies has reported a 17.8 percent growth in March quarter profit after tax at Rs 97.3 crore compared to Rs 82.6 crore in previous quarter. Revenue from operations during the quarter grew by 4.3 percent to Rs 788.8 crore, against Rs 756.5 crore in December quarter. The company announced a dividend of Rs 15 per share.
Carbon black manufacturer Phillips Carbon Black has reported 162.5 percent increase YoY in profit at Rs 74.3 crore for the quarter ended March 2018, driven by revenue and operational performance. Profit in the same quarter last fiscal was at Rs 28.3 crore. Revenue from operations in Q4 grew by 37 percent to Rs 753 crore compared to Rs 550 crore in year-ago period.
Here are some picks from the week gone by.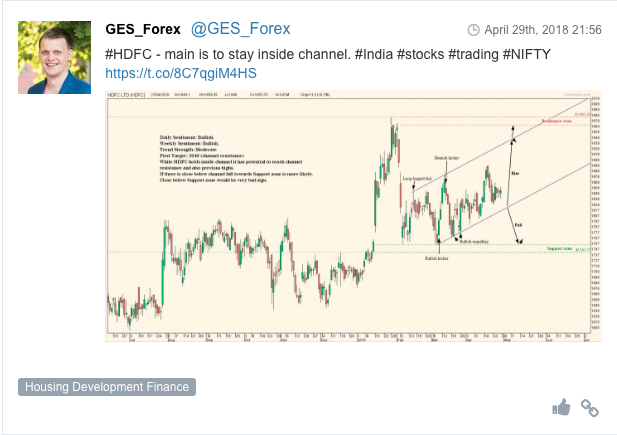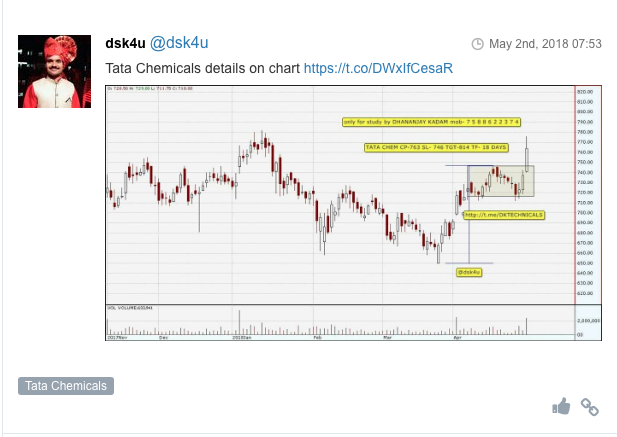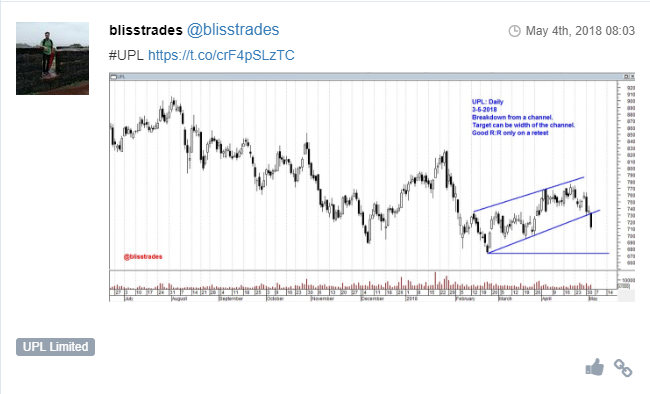 Please read our disclaimer here.