Sensex ends 155 pts lower; SBI down 4% post Q1 results
Benchmark indices ended lower on Friday, after touching record highs for four straight sessions, following global market trends. Metals, pharma and PSU banks were the top draggers during the day.
The S&P BSE Sensex ended the day at 37,869 down 155 while the Nifty50 index settled at 11,429 down 41 points
SBI slipped 4% after it reported a bigger-than-expected quarterly loss on Friday, as the country's biggest lender by assets made higher provisions for treasury losses. SBI's third consecutive quarterly net loss came in at Rs 48.76 billion ($707.28 million) for the three months to June 30, compared with a profit of Rs 20.06 billion a year ago, and a record loss of Rs 77.18 billion in the March quarter. Gross NPA stood at 10.69% vs 10.91% QoQ while provisions were at Rs 192.28 billion vs Rs 280.96 billion QoQ
Shares of Jet Airways hit a three-year low of Rs 262, down 10% on the BSE on Friday in early morning trade after the company deferred announcing their June quarter numbers to an unspecified date. On the National Stock Exchange (NSE), the stock hit a low of Rs 258, and is trading at its lowest level since June 16, 2015
Shares of Mahindra & Mahindra (M&M), Berger Paints India, Bata India and Exide Industries were among eight companies from the S&P BSE500 index hit their respective new highs on the BSE in otherwise range-bound market. Indiabulls Ventures, Graphite India, Nestle India and Sanofi India, too, touched record highs today.
Eicher Motors has moved higher by 5% to Rs 28,975 on the BSE after the company reported 25% year-on-year (YoY) growth in its consolidated net profit at Rs 5.76 billion in June quarter (Q1FY19). It had profit of Rs 4.60 billion in the same quarter last fiscal. During the quarter under review, Royal Enfield posted its best ever performance. Revenue from operations rose 27% YoY to a record Rs 25.48 billion in the quarter. The Ebitda (earnings before interest, tax, depreciation and amortisation) margin increased to 31.8% in Q1FY19 from 31% in Q1FY18.
Led by strong export revenues, Bharat Forge reported its seventh consecutive quarter of sequential growth for the June quarter. Exports, which, account for 57 per cent of standalone revenues, was up 26 per cent over the year-ago quarter, helping overall revenues grow 23 per cent in the quarter. Though domestic revenues were strong, gaining 19 per cent y-o-y, they fell 3 per cent on a sequential basis. The lower growth was largely on account of the industrial segment, which has been pegged back by delays in finalisation of tenders and also saw revenue decline 12 per cent.
Shares of Indiabulls Ventures are locked in upper circuit of 5% at Rs 713 on the BSE, extending its last one month's rally, after the company announced that its board will meet on Tuesday, August 14, to consider fundraising plans. The stock currently trading at its new high has rallied 48% as compared to 5% rise in the S&P BSE Sensex.
Investors cheered the stellar June 2018 quarter (Q1) numbers of Page Industries on Thursday, with the stock rising over seven per cent to close at Rs 32,391 after hitting an all-time high of Rs 32,750. Though the company's revenue of Rs 8.2 billion (17.1 per cent up year-on-year) was tad below the Street's expectations of Rs 8.3 billion (as per Bloomberg consensus), its reported net profit of Rs 1.24 billion (up 45.9 per cent year-on-year) was well above the estimations of around Rs 1.14 billion.
Shares of AU Small Finance Bank have surged 10% to Rs 711 on the BSE in early morning trade on huge volumes. Till 09:46 am; around 27 million equity shares representing 9.3% of total equity of AU Small Finance Bank have changed hands on the BSE, the exchange data shows. On an average sub 40,000 shares were traded daily in past two weeks.
Here are some picks from the week gone by.
Company: Britannia Industries CMP: 6359.00 Mastermind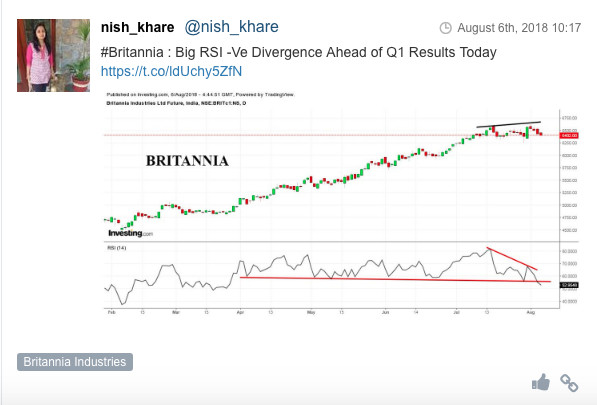 Company: Canara Bank CMP: 282.75 Mastermind

Company: Marico Ltd. CMP: 364.25 Mastermind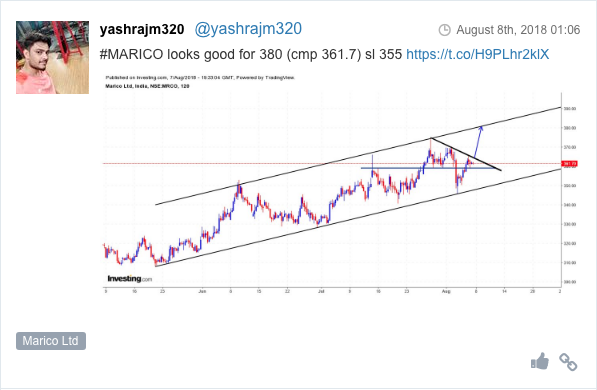 Company: Cipla Ltd. CMP: 621.10 Mastermind

Company: Lupin Ltd. CMP: 808.50 Mastermind

Follow us on Twitter, Facebook, Instagram, Pinterest, Google+
Please read our disclaimer here.