Sensex ends at new closing high of 37,337; ITC up 5% post Q1
The benchmark indices ended at record closing high for the second straight session on Friday on strong quarterly results. The gains were led by index heavyweights like ITC, RIL, and Hindalco.
The S&P BSE Sensex settled at a record high of 37,337, up 352 points, while the broader Nifty 50 index settled at a new high of 11,278, up 111 points.
In intra-day deals, the S&P BSE Sensex hit a fresh all-time high of 37368.62 while the Nifty50 index touched its record high level of 11,283.40.
Leading the gains is ITC, which has surged over 5 per cent on the BSE. Beating street estimates, diversified conglomerate ITC on Thursday posted a 10.07 per cent jump in its net profit at Rs 28.19 billion for the quarter ended June 30, 2018 with its total revenue, inclusive of other income, registered at Rs 112.78 billion.
Among other gainers, Reliance Industries was among the top contributors to the NSE index, up over 1.5 per cent ahead of its quarterly results later in the day. The oil-to-retail conglomerate will also report results of its telecom arm Reliance Jio.
Nifty Bank index also hit an all-time high, ending 0.8% higher for the day. IDFC Bank, Federal Bank, and Axis Bank were the top gainers in the pack, up between 2 per cent to 2.6 per cent.
Shares of railways consultancy firm RITES has zoomed 20% to Rs 267, its highest level since listing on July 2, 2018. Thus far in the current week, the stock rallied 38% from Rs 194, as compared to 2.3% rise in the S&P BSE Sensex. RITES, the first state-owned firm to hit the initial public offering (IPO) market in the current fiscal, was trading 44% higher against its issue price of Rs 185 a share. It touched a low of Rs 190 during intra-day deal on July 2.
Westlife Development, owner of the Master Franchisee of McDonald's restaurants in west and south India, rose 17% to Rs 408 on the BSE in the noon deal after the company reported a consolidated net profit of Rs 116 million in June quarter (Q1FY19). It had posted a net loss of Rs 27 million in the same quarter year ago. Total operational revenues during the quarter under review grew 30% at Rs 3,417 million against Rs 2,625 million in the corresponding quarter of previous fiscal.
Reliance Industries (RIL) was trading 2% higher at Rs 1,133 on the BSE at 12:32 pm ahead of its June quarter (Q1FY19) results today (July 27, 2018) evening. The stock was quoting close to its record high of Rs 1,138 touched on last Friday, July 20, in intra-day trade. Oil to telecom major RIL is expected to report a steady performance for Q1FY19. This would be on the back of higher petrochemical volumes, expected to partly offset a softening in the refining segment. In the new-age businesses of retailing and telecom (digital services), analysts expect earnings to slow down as compared to the March quarter (Q4FY18).
Shares of Colgate-Palmolive (Colgate), which were down 10.5 per cent in the past two months until Wednesday, slid another 3.6 per cent to Rs 1,083.90 on Thursday, despite the company posting better-than-expected profit for the June 2018 quarter (Q1). Investors are worried about the persistent decline in Colgate's toothpaste market share, which may keep the stock under pressure.
Shares of Biocon have rallied 10% to Rs 613 per share on the BSE after the company reported 48% growth in consolidated net profit at Rs 1.2 billion in June quarter (Q1FY19). The biopharmaceuticals company had profit of Rs 0.81 billion in the same quarter year ago. The company's revenue from operations grew 20% at Rs 11.24 billion against Rs 9.34 billion in the corresponding quarter of previous fiscal. EBITDA (earnings before interest, taxes, depreciation and amortization) margin improved to 26% from 25% during the quarter.
Shares of ITC surged 5% to Rs 302 per share on the BSE on Friday after the company reported a better-than-expected 10% year-on-year jump in net profit at Rs 28.19 billion in June quarter (Q1FY19). The net profit growth during the quarter was driven by robust performance across most segments. Analysts on average had expected net profit of around Rs 28 billion for the quarter.
Here are some picks from the week gone by.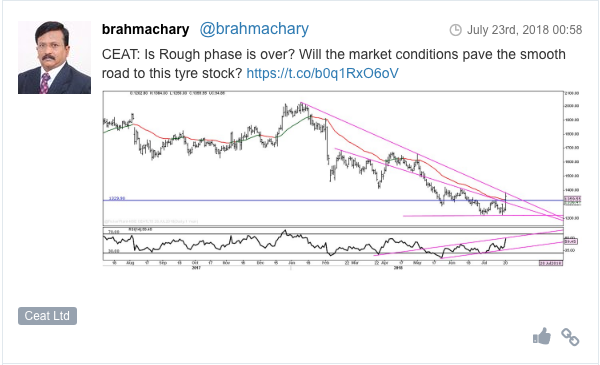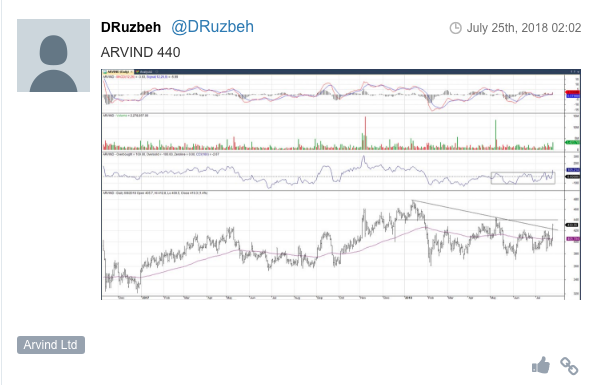 Please read our disclaimer here.