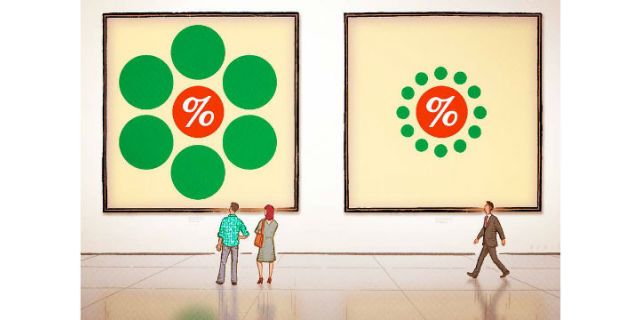 Big gains can be hard to find in the financial markets. Nowadays, though, they seem to be everywhere — and that could change how you feel about taking risks.
As of Nov. 16, the S&P 500 is up 359% since the bull market began March 9, 2009, counting dividends, according to S&P Dow Jones Indices. This year alone through Nov. 16, Alphabet (the parent company of Google) has returned 32%, Amazon.com 52%, Apple 50% and Facebook 56%, including dividends. Bitcoin, the digital currency, has gained more than 700% so far this year.
Against that backdrop, even what investors used to regard as a generous annual gain — say, 10% — starts to feel paltry. New research into a mental process called "contrast effects" shows how that works and how it can alter your behavior.
Finance professors Samuel Hartzmark of the University of Chicago Booth School of Business and Kelly Shue of Yale University's School of Management analyzed nearly 76,000 earnings announcements from 1984 through 2013 in which companies earned either more or less than investors were expecting.