Sensex recovers 300 points from day's low to settle at 35,809
Shares of Dr Reddy's Laboratories fell 30 per cent to Rs 1,873 apiece in the intra-day trade, also their 52-week low on the National Stock Exchange (NSE), after media reported Jefferies, in its research note, said that the Form 483 issued by US Food and Drug Administration (US FDA) to drug firm's Bachupally plant contains four repeat observations out of the total 11 observations. The stock ended 4.17 per cent lower at Rs 2,556.
Shares of mid-cap companies were under pressure with the S&P BSE MidCap index hitting a four month low of 13,863, down 2 per cent on the BSE after a decline in pharmaceuticals, financials and consumer discretionary goods & services stocks. The index hit its lowest level since October 26, 2018, was 2.3 per cent away from its 52-week low of 13,539 touched on October 9 in intra-day trade.
Shares of Bharat Dynamics soared 16 per cent to Rs 263 apiece on the BSE in an otherwise weak market after the company reported a robust net profit of Rs 188 crore in December 2018 quarter (Q3FY19). The state-owned defence company had a profit of Rs 6.18 crore in the year-ago quarter. The company's operational revenue during the quarter under review grew 26 per cent to Rs 1,038 crore against Rs 822 crore in the corresponding quarter of previous fiscal.
Shares of Page Industries extended their Thursday's fall and slipped 7 per cent to Rs 22,265 apiece on the BSE in early trade on Friday. The stock has fallen 9 per cent in the past two trading sessions. After two quarters of dismal performance, the Indian maker of Jockey men's and women's innerwear clocked 18.9 per cent rise in net revenues to Rs 738 crore, and 22.2 per cent growth in net profit to Rs 102 crore in December 2018 (Q3FY19) quarter, compared to the year-ago period.
Here are some picks from the week gone by.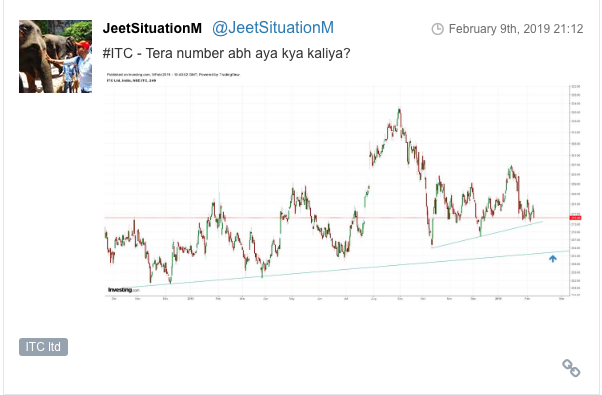 Please read our disclaimer here.