Sensex gains 213 points post Populist Budget Proposals
The benchmark indices settled over 0.5 per cent higher on Friday after Finance Minister Piyush Goyal announced a string of populist measures in his Interim Budget 2019 speech in the Parliament.
The S&P BSE Sensex ended at 36,469, up 213 points or 0.59 per cent, while the broader Nifty50 index settled at 10,894, up 63 points or 0.58 per cent.
In the broader market, the S&P BSE MidCap index ended at 14,641, up 81 points or 0.56 per cent, while the S&P BSE SmallCap settled at 13,950, up 24 points or 0.17 per cent.
Among sectors, the Nifty Auto index was the top gainer of the day, rising 2.71 per cent led by Hero MotoCorp and Maruti Suzuki. The Nifty IT index too rose 1.45 per cent led by HCL Technologies and Tech Mahindra.
In a major relief to the middle-class taxpayer, Finance Minister Piyush Goyal, in his Interim Budget 2019 speech announced that those earning up to Rs 5 lakh a year would not have to pay any tax. He also said that those with an annual income of up to Rs 6.5 lakh would not have to file income-tax returns.
Goyal also announced PM Kisan Samadhan Nidhi scheme in which, farmers owning up to 2 hectares of land will get Rs 6,000 per annum, which will be completely funded by the central government. This scheme is likely to benefit 12 crore small and marginal farmers, at an estimated cost of Rs. 75,000 crore, he said. Apart from this, he also said that the government has set aside Rs 60,000 crore for MGNREGA this year, and allocated Rs 19,000 crore for Pradhan Mantri Gram Sadak Yojana.
The finance minister also said that the country's defence budget for FY20 has been increased to Rs 3 lakh crore.
The government allocated Rs 64,587 crore for railways in FY20, Goyal said adding that the railway operating ratio was seen 96.2 per cent in FY19 vs 95 per cent in FY20.
Shares of Anil Agarwal promoted companies – Vedanta, Sterlite Technologies and Hindustan Zinc, hit their respective 52-week lows, falling by up to 20 per cent on BSE in intra-day trade on Friday. Vedanta ended 17.82 per cent lower at Rs 162, Sterlite Technologies settled at Rs 223, down 9.55 per cent and Hindustan Zinc slipped 2.07 per cent to end at Rs 255.
Shares of YES Bank were down for the fifth straight day, down 7 per cent to Rs 182 apiece on BSE on Friday, after the private sector lender announced that Pralay Mondal has tendered his resignation as Senior Group President and Head – Retail & Business Banking of the bank on January 31, 2019. YES Bank was the top loser among Nifty Bank and Nifty Private Bank indices.
SBI beat expectations and posted its highest quarterly profit in nearly seven years. Its net profit was Rs 3,955 cr rupees for the third quarter ended Dec. 31, versus a loss of Rs 2,416 cr rupees a year ago.
Shares of Dr Reddy's Laboratories hit a 52-week high of Rs 2,760 apiece, up 1.3 per cent on BSE in the intra-day trade on Friday, ahead of December quarter results (Q3FY19) today. The drug company surpassed its previous high of Rs 2,745 recorded on December 3, 2018 in the intra-day deal.
Shares of Dewan Housing Finance Corporation (DHFL) were trading under pressure, falling 12 per cent to Rs 120 apiece on BSE, as government launched probe against the housing finance company. The stock was trading at its lowest level since May 13, 2014.
Shares of Jet Airways climbed as much as 18.57 per cent to Rs 281.50 apiece on BSE after a news report suggested Naresh Goyal-controlled airline has agreed with most of the conditions set by its partner Etihad for offering a lifeline to the debt-laden domestic carrier. According to sources, the airlines are set to sign a memorandum of understanding (MoU) within days. According to the proposed deal, Founder Chairman Goyal will step down from the board of directors and relinquish his decision-making powers, said a report.
Here are some picks from the week gone by.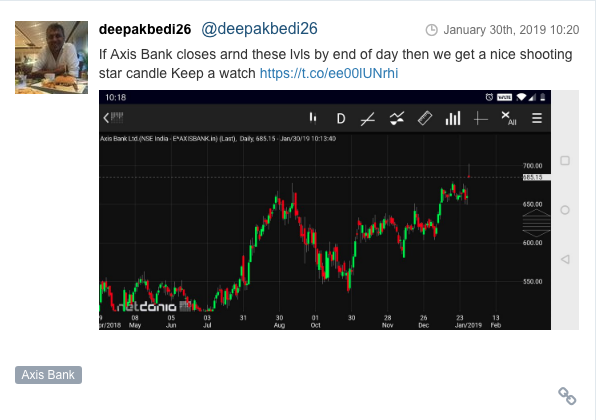 Please read our disclaimer here.