Indices end higher on Friday but Nifty fails to hold 10500 mark
Benchmark indices rose for a seventh straight session on Friday, their longest winning streak since November 2017, on the back of gains in index heavyweights such as Reliance Industries and ICICI Bank.
Sentiment was also upbeat after retail inflation eased to a five-month low in March, but remained above the central bank's medium-term target, supporting views that monetary policy is likely to remain unchanged at the next review in early June.
Investors now await January-March corporate results for future direction. IT Major Infosys will kick-start the March-quarter results season later in the day.
The S&P BSE Sensex ended at 34,193, up 92 points while the broader Nifty50 index settled at 10,481, up 22 points.
KPIT Technologies  rose for a third straight session, quoting at Rs 230.5, up 1.86% on the day as on the NSE. KPIT Technologies is up 79.24% in last one year as compared to a 14.96% gain in Nifty and a 33.16% gain in the Nifty IT index.
Shares of Tata Consultancy Services (TCS) have moved 3.2% higher to Rs 3,238 per share, extending their 7.4% rally in past three trading days on the BSE. The information technology (IT) giant trading close to its all-time high of Rs 3,255, recorded on January 24, 2018 in intra-day trade. The company is scheduled to announce its earnings for the period of January-March 2018 (Q4FY18) and the financial year 2017-2018 (FY18) on Thursday, April 19, 2018
Mishra Dhatu Nigam (MIDHANI) has surged 15% to Rs 107 on the BSE, on back of heavy volumes. The stock was trading at its highest level since listing on April 4, 2018.
HCL Technologies was down 2% to Rs 990, falling 3% from its early morning high after the company and Sumeru Equity Partners (SEP) signed a definitive agreement to acquire US company Actian Corporation in an all-cash deal, valued at $330 million (Rs 21.55 billion). HCL will own 80% stake in the joint venture that has been formed, with SEP holding 19.5% and Rohit De Souza (Actian Corporation CEO) owning 0.5%, HCL said in a regulatory filing on Thursday.
Shares of agriculture-related stocks were in focus with Chambal Fertilisers & Chemicals, Escorts and Shakti Pumps (India) hitting their respective 52-week highs on expectations of a government thrust to drive sector.
Madras Fertilizers, Fertilizers & Chemicals Travancore (FACT), Rashtriya Chemicals & Fertilisers (RCF), Chambal Fertilisers & Chemicals and Deepak Fertilisers & Petrochemicals from fertilizers, Shakti Pumps (India) and Roto Pumps from pumps manufacturer and Escorts from the tractors were up in the range of 3% to 8% on the BSE.
In other news,
RIL, JM Financial bid jointly to buy textile manufacturer Alok Industries.
Fortis received an unsolicited binding offer from Hero Enterprises and Burman Family to invest Rs 1,250 crore through preferential allotment.
Thyssenkrupp says due diligence for Tata Steel joint venture almost completed; expect a decision on JV by June-end.
Texmaco Rail opened a subsidiary in South Africa to grow exports and EPC business in the African region.
NBCC: The company has secured total business of Rs 770 crore for March 2018.
Boeing partners with HAL & Mahindra to manufacture F/A-18 Super Hornet in India.
Here are some picks from the week gone by.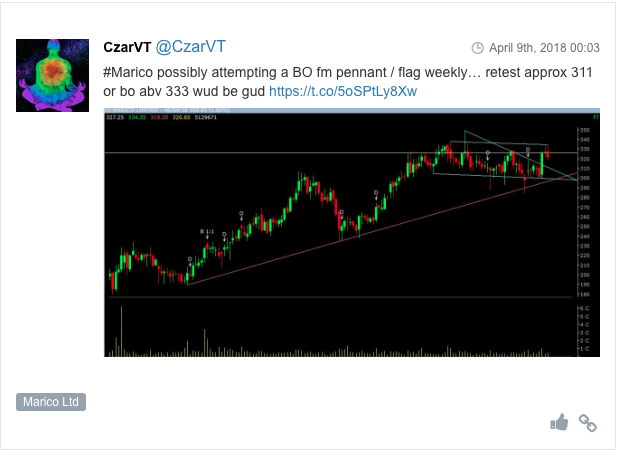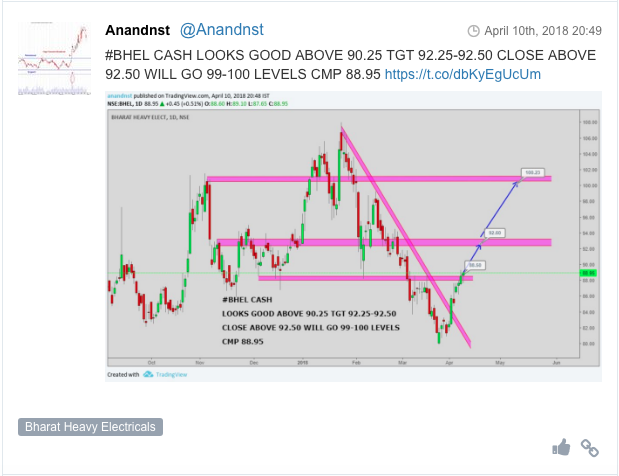 Please read our disclaimer here.