Sensex snaps 6-day gains, falls 111 pts; Nifty ends Jan series above 11,000, up 6%
Benchmark indices fell on Thursday, snapping a six-day record-setting rally, as profit-taking hit IT stocks while large state-run lenders slid as they stood to receive less money than expected from a government recapitalisation plan.
The S&P BSE Sensex ended at 36,050, up 111 points while the broader Nifty50 index settled at 11,069, up 16 points.
The government's Rs 881.39 billion capital infusion in struggling public sector banks should help in part to mitigate risks but resolution of bad assets and continued high credit costs hinder the sector's near-term performance, Fitch Ratings said on Thursday. While the capital infusion plan was less than half of its estimate of $65 billion needed for the sector, Fitch said yesterday's announcement will encourage banks to resolve their non-performing loan (NPL) stock faster as improved capital buffers bolster their ability to absorb potential large haircuts.
Jindal Saw dipped 8% to Rs 154, extending Wednesday's 4% decline on BSE after the company reported 19% growth in net profit at Rs 963 million for the quarter ended December 2017 (Q3FY18). It had a profit of Rs 807 million in the same quarter last fiscal. Total income increased 49% to Rs 21,807 million from Rs 14,666 million in the corresponding quarter of previous year.
Dr. Reddy's Laboratories Ltd posted a 38.5 percent slump in quarterly net profit as sales declined due to pricing pressure in the United States, its biggest market. Net profit was Rs 3.03 billion ($47.7 million) in the third quarter ended December 31, compared with Rs 4.92 billion a year earlier, the company said.
Everest Industries hit a new high of Rs 637, up 9% on BSE in intra-day trade, after the company reported a net profit of Rs 94 million for the quarter ending December 2017 (Q3FY18). The company engaged in cement & cement products business had posted a net loss of Rs 141 million in the same quarter last fiscal.
NIIT Technologies hit a new high of Rs 906, up 5% on BSE, extending its gains for tha past four days, after the company reported a better than expected 12.4% sequential growth in consolidated net profit at Rs 756 million in December quarter (Q3FY18). In past one week, the stock rallied 31% from Rs 692 on January 18, as compared to 2% rise in the S&P BSE Sensex. The stock of information technology (IT) company is top gainer in weekly chart among the S&P BSE 500 index.
United Spirits (USL), the producer and distributor of prominent liquor brands such as Royal Challenge, Antiquity, and Johnnie Walker, disappointed the Street with its December 2017 quarter (Q3) results. In fact, the subsidiary of London-based Diageo — the world's largest producer of spirits — lagged behind expectations on several counts. The share price of USL fell over 8% intra-day on Wednesday before closing down 7% at Rs 3,489. The regulatory environment continues to take a toll on the company's performance.
Bharat Electronics was up 2% at Rs 178 on BSE after the state-owned company said that its board will consider the proposal for buyback of shares of the company on January 30, 2018. It will also consider and approve, unaudited standalone financial results for the quarter and nine months ended 31st December, 2017 and declaration of interim dividend for the financial year 2017-18.
Here are some picks from the week gone by.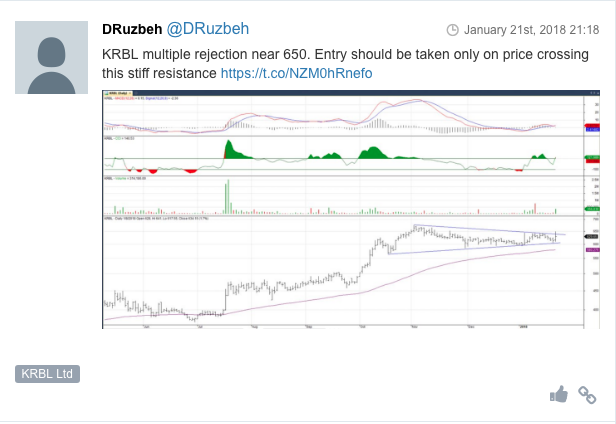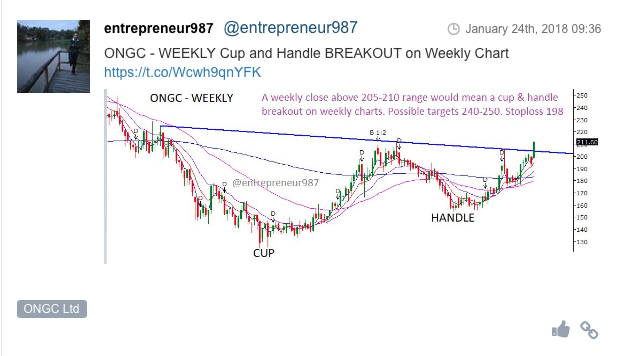 Please read our disclaimer here.