Sensex ends at fresh closing high, up 251 pts, Nifty settles near 10,900
Benchmark indices ended at fresh closing highs for a third straight session on Friday, led by financial stocks amid improved investor sentiment after the government decided to cut tax rates on certain products and services.
The S&P BSE Sensex ended at 35,511, up 251 points while the broader Nifty50 index settled at 10,894, up 77 points.
ICICI Prudential Life said profit in Q3 grew by 0.5 percent to Rs 452.1 crore against Rs 450 crore reported in year-ago. Net premium income jumped 19.3 percent to Rs 6,795 crore from Rs 5,697 crore YoY.
PC Jeweller today reported 52 percent increase in its net profit at Rs 162.71 crore for the quarter ended December on higher sales and profit margins. The company, which has 84 retail jewelry stores across the country, had posted a net profit of Rs 106.97 crore in the year-ago period, the company said in a regulatory filing.
Private sector lender IDFC Bank said its profit for the quarter ended December 2017 declined 23.6 percent to Rs 146.1 crore, compared to Rs 191.3 crore in year-ago. Profitability was hit by lower net interest income, other income and operating income; but was largely supported lower provisions. Net interest income, the difference between interest earned and interest expended, fell 5 percent to Rs 495 crore compared to Rs 521 crore in year-ago. Asset quality worsened during the quarter. Gross non-performing assets (NPAs) as a percentage of gross advances were sharply higher at 5.62 percent against 3.92 percent in previous quarter and net NPA was also higher at 3.52 percent in Q3 against 1.61 percent in Q2FY18.
Kirloskar Oil Engines shares gained 3 percent after profit in Q3 increased 40.5 percent to Rs 39.5 crore from Rs 28.1 crore YoY. Revenue from operations rose 6.8 percent to Rs 684.6 crore while operating profit grew by 10.7 percent to Rs 64.1 crore and margin expanded 40 basis points to 9.4 percent.
Jubilant FoodWorks hit a new high of Rs 2,053, up 6% on BSE in intra-day deal, after the company reported a strong Same Store Growth (SSG) of 17.8% for Domino's as against analyst's expectation of around 8% in December quarter (Q3FY18). The company had recorded a negative growth of 3.3% in a year ago quarter. The company reported more than doubled net profit at Rs 660 million in Q3FY18 from Rs 200 million in the corresponding quarter of previous fiscal.
ITC Ltd, India's biggest cigarette maker, posted a 16.8% rise in its third-quarter profit on Friday, helped by a one-time gain. The company, which also makes consumer goods ranging from biscuits to skincare products, said its profit rose to Rs 30.90 billion ($484.53 million) in the quarter ended December 31, from Rs 26.47 billion a year ago.
Manappuram Finance has moved higher to Rs 121, up 4%, bouncing back 7% from its intra-day low on the National Stock Exchange after the company said it called a board meeting in next week to discuss on investment proposals. The stock hit a low of Rs 113 in early morning trade before the announcement.
Adani Ports and Special Economic Zone (APSEZ) was up 4% to Rs 430 on Friday, erasing most of its yesterday's loss on BSE, after the brokerages upgrade the stock post December quarter (Q3FY18) results. On Thursday, the stock ended 4.4% lower at Rs 414 on BSE. APSEZ has posted an 18% year-on-year increase in consolidated net profit for the third quarter of 2017-18 financial year to Rs 9.94 billion while its consolidated income from operations grew 22% for the same period. Consolidated operating EBITDA (earnings before interest, tax, depreciation and amortization) increased by 46% to Rs 19.67 billion in Q3FY18 from Rs 13.44 billion in Q3FY17. The cargo volumes were up 16% during the quarter.
HDFC Bank Ltd, India's second-biggest lender by assets, on Friday reported a record-high quarterly profit, helped by an increase in interest and fee incomes. Net profit rose 20 per cent to Rs 46.43 billion ($728.40 million) for the third quarter ended Dec 31, from Rs 38.65 billion a year ago.
Biocon hits a record high of Rs 564, up 4% on the National Stock Exchange (NSE), after the company entered into a global partnership with Sandoz to develop, manufacture and commercialise multiple biosimilars in immunology and oncology. Sandoz is a Novartis division and a global leader in biosimilars.
Cyient hit a 52-week high of Rs 622, up 7% on BSE in early morning trade, after the company reported 1.3% quarter on quarter (Q-o-Q) dollar revenue growth at $152 million in December quarter. Services revenue grew 4.2% (4.4% in constant currency) on Q-o-Q was highest ever at $139.9 million.
Wonderla Holidays has surged 9% to Rs 424 on BSE in early morning trade after the Goods and Services Tax (GST) Council on Thursday cut rates on 83 employment-oriented goods and services.
Alembic rallied 7% to Rs 63.20 on BSE in intra-day trade after the pharmaceutical company announced that its board will consider share buyback proposal on January 23, 2018.
Here are some picks from the week gone by.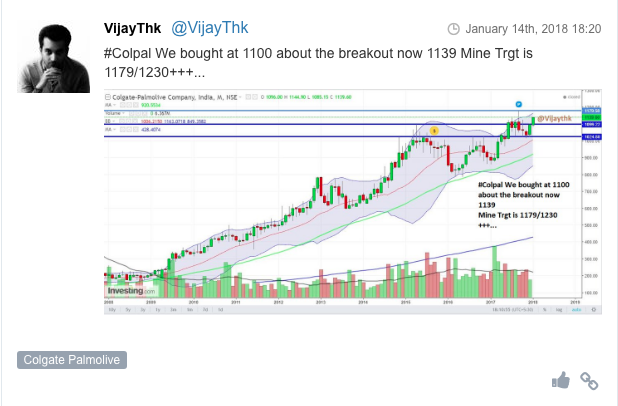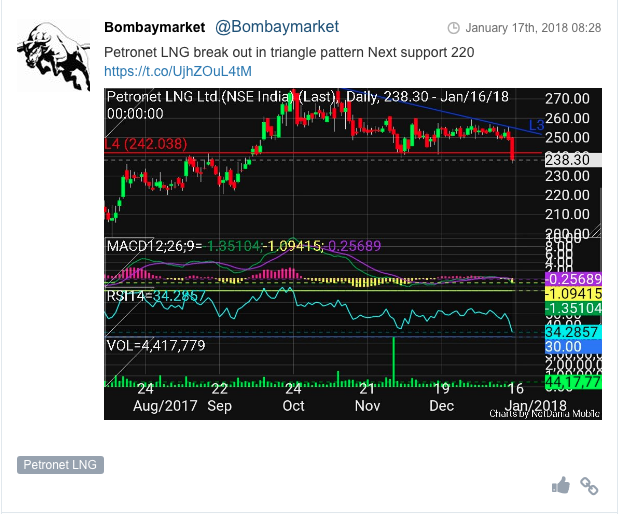 Please read our disclaimer here.