Nifty ends above 10,250, up 1.4% for the week; Sensex ends 301 pts higher
Benchmark indices rose for the second straight session on Friday amid hopes the ruling Bharatiya Janata Party (BJP) would win critical state elections in Gujarat beginning this weekend, while automakers gained on reports of an expected price hike next year.
The election in Prime Minister Narendra Modi's home state is a key test for the BJP, ahead of general elections in 2019. The results will be out later this month.
According to polls, the BJP could win, but with a reduced majority – an outcome that would still soothe investors, who are hoping for more political stability and have largely welcomed Modi's reform agenda.
The S&P BSE Sensex ended at 33,250, up 301 points while the broader Nifty50 index settled at 10,265, up 98 points. Broader markets were in line with the frontline indices with BSE Midcap up 0.9% and BSE smallcap up 1%
Unitech was locked in upper circuit of 20% at Rs 7.29 on the BSE with no sellers seen on the counter after a media report suggested that the government would seek court approval to take control of the realty major.
Shares of Balkrishna Industries and Vakrangee hit their respective new high on Friday, up 39% after their respective boards declared bonus issue to their existing shareholders. Both these stocks have outperformed the market by wide margins post bonus announcements.
Shares of Steel Authority of India Ltd jumped as much as 3.9 percent after Reuters reported, citing sources, that the state-run firm was set to approve a long-proposed $1 billion JV with ArcelorMittal SA next week.
Maruti Suzuki India hit a new high of Rs 9,120 on the BSE in intra-day deals on Friday, surpassing the state-owned banking giant State Bank of India (SBI) in market capitalisation (market-cap) ranking. On Thursday, Maruti Suzuki India had surpassed the India's largest mortgage lender and non-banking finance company Housing Development Finance Corporation (HDFC). Maruti Suzuki India with market-cap of Rs 273,958 crore came in at number sixth position in overall ranking ahead of SBI which had market-cap of Rs 272,902 crore at 10:49 am; the BSE data showed. HDFC had market-cap of Rs 267,242 crore. Maruti Suzuki India was at number 11th position in overall market-cap ranking at beginning of the current calendar year 2017 (CY17). It surpassed Infosys, Oil and Natural Gas Corporation (ONGC) and Coal India thus far in CY17.
Jet Airways (India) dipped 5% to Rs 665 on the BSE in intra-day trade after the company reported a 91% drop in standalone net profit at Rs 50 crore in September quarter (Q2FY18), due to higher fuel expenses. It had profit of Rs 549 crore in the same quarter year ago. Revenue from operations grew 3% at Rs 5,627 crore against Rs 5,453 crore in the corresponding quarter of previous year. Quarterly total expenses rose 9.2% to Rs 5,709 crore with aircraft fuel expenses rising about 17% at Rs 1,526 crore over the previous year quarter.
Jayshree Tea share price gained more than 3 percent as operating profit in Q2 grew by 8 percent to Rs 35.4 crore and margin expanded by 100 basis points to 22.3 percent compared with year-ago. Net profit during the quarter fell 7.2 percent to Rs 25.6 crore while revenue increased 3 percent to Rs 158.4 crore YoY.
Manappuram Finance gained 2 percent as promoter VP Nandakumar has bought additional 4.9 lakh shares in the company.
Here are some picks from the week gone by.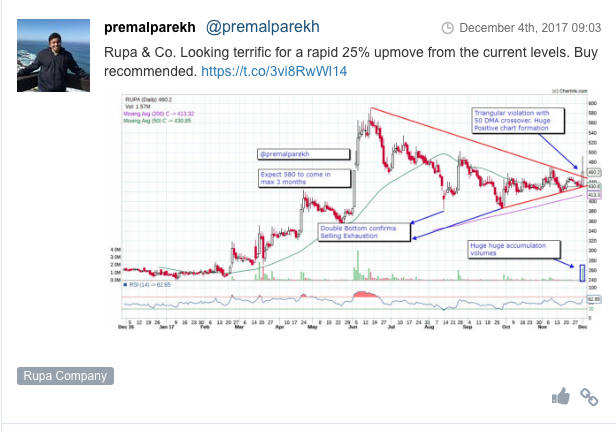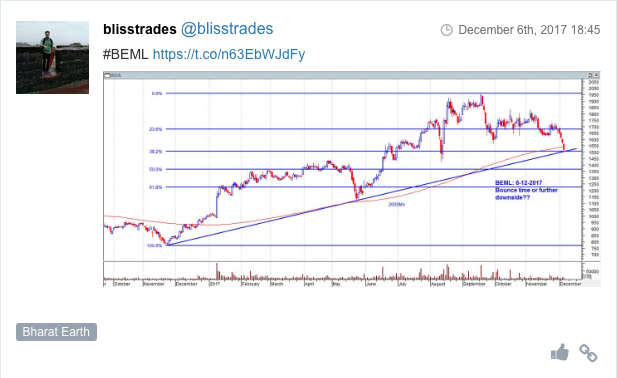 Please read our disclaimer here.