In first trading session of Samvat 2074, Sensex dives 194 points
Trading in Samvat 2074 got off to a rocky start, with the benchmark indices ending more than half a % lower and gauge for banking stocks dropping 1.25%. The BSE Sensex on Thursday fell 194.4 points, or 0.6% to close at 32,390, the Nifty 50 index fell 64.3, or 0.63% to close at 10,147.
The fall in the market was on account of a global sell-off which saw the Hong Kong market tumble the most this year and the European equities fall the most in two months. Market players said some domestic investors also resorted to profit-booking after a healthy 18% rally in the just-concluded Samvat 2073.
The BSE Bankex fell 1.3%, with ICICI Bank, Kotak Mahindra Bank and HDFC Bank declining 2%, 1.6% and 1% respectively. These three stocks accounted for half of the fall in the benchmark Sensex.
Tata Teleservices locked at upper circuit for 6th consecutive day post fundraising plan. The stock rallied 5 percent to close at Rs 6.17 on the BSE on Thursday. It surged 53.5 percent in six straight sessions, especially after its deal with Bharti Airtel for sale of consumer telecom business.
Telecom operator Bharti Airtel was the biggest gainer among Nifty 50 stocks, rising 2.55 percent to close at Rs 473.75 per share on value buying on Thursday, the first day of Samvat 2074. Bharti Airtel last week said it would buy consumer telecom business of Tata Teleservices.
Here are some picks from the week gone by.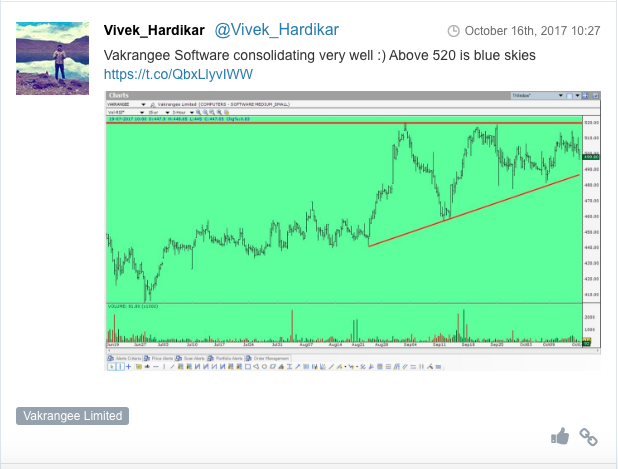 Please read our disclaimer here.