Reblog: How long does it take to discover Welspun India's new worth?
The original article appeared in LiveMint on August 26, 2016 and can be found here.
In four trading sessions, Welspun India's market valuation came down to Rs. 5,700 cr. If there were no circuit filters, we would have known this within minutes on Monday.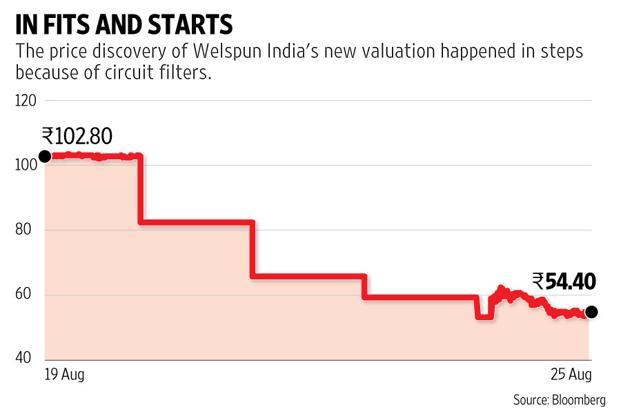 Late last week, Target Corp. said it will end its business relationship with Welspun India Ltd, stating it had received bedsheets where Egyptian cotton was substituted with a cheaper variant.
When stock market trading resumed on Monday, it was clear Welspun India wasn't worth the Rs.10,370 crore valuation it enjoyed until the prior week. But how much was it now worth?
The stock markets have a way of arriving at a new value within minutes in such cases—look no further than the Satyam case. But that is when no circuit filters are applied on stocks. In Welspun India's case, circuit filters do apply, because its stock isn't part of the list of securities in which derivatives trading is permitted.
Its shares fell the maximum permissible 20% in Monday's trading session and another 20% on Tuesday. On Wednesday, the circuit filter was cut to 10%, and the stock was again at the lower end of the filter. On Thursday, finally, its shares changed hands freely. Shares worth Rs.590 crore changed hands at a volume weighted average price ofRs.56.85 on the National Stock Exchange.
So, it has taken about four trading sessions in all to come to the conclusion that Welspun India's new valuation isRs.5,700 crore or about 45% lower than what it was at the end of last week. If there were no circuit filters, we would have known this within minutes of the market resuming trading on Monday.
Of course, this is an evolving situation. Other large customers such as Wal-Mart Stores Inc. and JC Penney Co. Inc. said they will review their supply chain to verify Welspun India's product claims. Much depends on what these reviews lead to.
Even so, it's unfortunate when circuit filters interfere with price discovery when material new information comes to light. Regulators use tools such as circuit filters to protect small investors from high volatility; but they throttle price discovery in such special situations. Besides, the fear that a stock may be stuck at the lower end of the circuit filter for another session results in panic selling, exacerbating the fall.
The Securities and Exchange Board of India (Sebi) must consider making changes to the existing system in such cases. One solution could be to conduct a call auction before resuming trading soon after such material information becomes public. Currently, the market reopens with a call auction after a market halt owing to a market-wide circuit level breach. The same facility can be extended to stocks as well in special situations.
According to some market experts, there should no curbs on price discovery at all. For instance, when Ramalinga Raju spilled the beans about the fraud at Satyam Computer Services Ltd on 7 January 2009, within minutes, the stock lost two-thirds of its value and traded at Rs.60 per share; by the end of the day's session, it had fallen to Rs.40. As it turns out, the stock largely traded in the Rs.40-60 band for the next few months, and Tech Mahindra Ltd ended up buying it for Rs.58 per share.
But regardless of whether the markets get their valuations right or wrong, circuit filters prevent investors from exiting positions during the most desperate times. For this reason alone, Sebi should consider an alternative to the existing system.